Comprehensive Book on Spinal Muscular Atrophy Published
We are pleased to announce that the book "Spinal Muscular Atrophy: Disease Mechanisms and Therapy," has been published by Elsevier and is now available in retail outlets, as well as at the Elsevier Store in print and electronic formats here.
This book is a comprehensive reference of recent advances in basic and clinical SMA research including clinical features and standards of care, genetics, disease pathology, SMN protein functions, animal models, clinical outcome measures, biomarkers, as well as current therapeutic development efforts for the disease. The book was co-edited by Dr. Charlotte Sumner (Johns Hopkins University), Dr. Sergey Paushkin (SMA Foundation), and Dr. Chien-Ping Ko (University of Southern California). It is comprised of 26 chapters organized into five sections and represents an international effort by leading SMA researchers and clinicians, whose interests and expertise encompass a wide spectrum of topics and disciplines.
During the last 30 years, we have witnessed a boom in the identification of genes underlying neurological diseases, but there are only a few diseases for which this knowledge has led to an effective treatment for patients. SMA may soon become one such disease. The identification of the causative gene (SMN1) by Dr. Judith Melki and colleagues in 1995 galvanized the SMA community and attracted many individuals from different disciplines to join the fight against SMA. As a result, the SMA community has witnessed significant advances in both basic and clinical research. Remarkably, we now stand on the brink of the first FDA-approved treatment for this devastating disease. Given the complexity of the disease, the diverse research approaches involved, the unique advances in therapeutic development, and the increasing body of literature on SMA, the timing is perfect for such a book that will become the single "go to" textbook for graduate and medical students, as well as an essential reference for academic and biotech/pharma researchers, clinical researchers and practitioners, patients and their advocacy organizations. This book will also be valuable to researchers and clinicians who want to apply SMA research strategies, therapeutic approaches, and lessons learned to advance treatment for other diseases.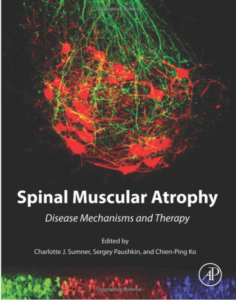 Perspectives
Section I describes the clinical features, diagnosis, and standards of care for SMA patients. It also details the development and pathology of the motor unit in SMA patients.
Section II focuses on molecular mechanisms of SMA, including transcription and splicing regulation of the SMN genes and the functions of the SMN protein. These molecular mechanisms are critical for providing both insights into the biology of SMN and the foundation for rational design of potential therapeutics. This section also covers cellular mechanisms underlying the disease, an effective therapeutic window with respect to the temporal requirement of SMN, and disease modifiers.
Section III details the cellular and animal models, which are indispensable for understanding the disease mechanisms and developing therapeutics in SMA.
Section IV is dedicated to SMA therapeutics development and covers the various strategies employed to date. This chapter also highlights the remarkable collaborative effort involving academic researchers, industry teams, advocacy organizations, government as well as SMA patients.
Section V focuses on recent advances in clinical research, including natural history studies, motor function scales and outcome measures, and biomarkers. The section concludes with lessons learned in clinical trials.
Appendices

Index
Companion Materials, http://booksite.elsevier.com/9780128036853/